Welcome to iloveebikes.com Online Store  
EB 1090 - 48 Volt City Bike - $1090
Options available below: front fork lock, windshield, wood baskets
EB 744 - 48 Volt Town & Country II Scooter - $1215
Available in Silver, Red, Blue or Black


EB 636 - Folding Bike 36V/ 10ah Lithium battery - $1275
350w motor.Available in Silver only.
Options available below: front fork lock, windshield, wood baskets
EB 600 - Folding Bike 36V/ 3ah LiFePO4 battery - $899
250w motor.
Available in Silver only.
Options available below: front fork lock, windshield, wood baskets


EB 415 - Aluminum Alloy Mountain Bike with Lithium Battery in Red onlyUltra-Heavy Duty Aluminum Alloy two-tone black/red frame450 watt motor 10 AH Lithium Ion battery - $1357
OPTIONS: Double front sprocket and Rear MTB rack


EB633 - Aluminum Alloy Step Through Bike with Lithium Battery - $1357
1 - Ultra-Heavy Duty Aluminum Alloy Silver or Black 700mm frame
2 - 350 watt motor 10 AH Lithium Ion battery
Note: 633 model has 26" frame and Black color only


EB629 - Aluminum Alloy Step Through Bike with Lithium Battery - $1357
1 - Ultra-Heavy Duty Aluminum Alloy Silver 700mm frame
2 - 350 watt motor 10 AH Lithium Ion battery
Note: 629 model has 27.5" frame and Silver color only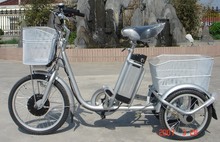 EB333 - Articulating Trike with Articulating Frame - $1328
36 volt 10 Ah Lithium Ion Battery
Available in silver only.
ES3000 - 60V BREEZE SCOOTER  - $2495
Standard: Silicon Battery60V 40ahLithium Ion Battery is optional
Available in Pink, Wine Red, Blue and Black



ACCESSORIES    ACCESSORIES    ACCESSORIES    ACCESSORIES    ACCESSORIES ACCESSORIES   
Woven Ash Bicycle Baskets for most bikes.
Available in 3 different sizes: Original, Large, and Extra Large, as well as Pet Carrier! 
Special: Free Shipping!!


Front Fork Lock - $22
For Street & City Bikes only.
Rear Locking Tool Kit / Trunk - $25
Locking Trunk fits City bike,   Town & Country 

Windshield
This nice windshield is priced to sell. It comes with all mounting hardware. = $38.95
Fits City bike, Street bike, Town & Country and Breeze.