ES3000
This stylish scooter style is a great vehicle for getting around town. It is one of our newest models to complete our line of electric two-wheeled vehicles. It has a cruising speed of 42 mph.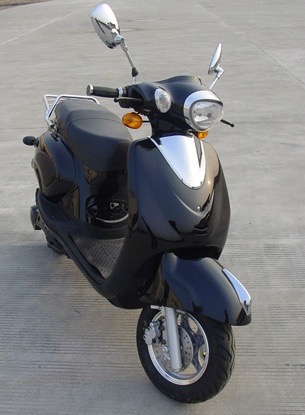 SPECIFICATIONS
Motor: 3000 watt brushless motor
2500Si Battery: 60v 24Ah Silicon

Capacity: 440 lbs., Two Riders
Max Speed: 42 mph on real road testing

Torque: 118 NM
Range: 60 miles (100km)
At 20 mph - 72 miles
At 40 mph - 50 miles
Climbing ability: 25% slope stop and startThis is not some cheaper model of electric scooter that you see made in China. Ours is not the kind that you will hit your knees on the front of the scooter. We have seen those, and they are fine for people under 5'0" tall. Ours are built special for normal American sized people. Don't be fooled by these 3/4 size scooters.
Our scooter features ABS plastic, not the cheap China plastic that often cracks and deteriorates with time, reducing the resale value of your new bike.
We don't just buy bikes from China. We have full time staff to oversee all our quality control and production issues.
Remember: Quality Doesn't Cost. It Pays!
REAL RESPONSES FROM REAL RIDERS!
"WOW! What a ride! First, I was impressed with the packaging inside the steel frame. Within minutes I had it unwrapped and ready for a test ride, but I controlled myself and took the time to put on the mirrors. I was told that this bike would do 42mph, which was fine with me, but when I gave this bike the throttle I was unprepared for the surge of power that made me really hang on! I took it down the road toward home from where I had it delivered to, and was pleasantly suprised with the power during town driving. As I left town, I noticed that the OFFROAD switch was not even on! I flipped that switch and took off again with a fresh surge of power and speed, as I toured down the road.
When I got to my home town, I decided to give the most difficult test I could. I took it up Reservoir Hill, the steepest blackto p road around. It conquered it without even groaning. This left me searching for a bigger challenge. I found the old path to the old town reservoir at the top of another mountain, this one was not blacktop, but off road, grass in middle of an old access road. I made it up without even putting it in the OFFROAD, more power switch. Needless to say, I am writing this to you and thanking you for the quality product you have worked on. I am looking forward to saving LOTS and LOTS of money on gas with my ES3000, and more important, having lots of fun, and knowing that I am putting out zero pollution."
"I have ridden other bikes, and liked them. Boy, that is an awesome ride. Coming down the hill, I pegged out the speedometer, so I don't know how fast I was going...it could not go past 50 mph on the gauge, but I was going faster. I took up the hill which I estimate to be about a 30 degree hill and it never even slowed down much. I weigh 185 lbs. and went up the two mile hill behind my work at over 30 mph the whole way. If anyone is thinking about an electric bike, I know they'll be sold as soon as they test this. Once they ride it, they will be hooked like I was."
QUALITY GUARANTEE!
With normal care and recommended maintenance, this electric bicycle is warranted to be free of defects in materials and workmanship for the following period of time: 3 months – electronic controller, charger, and throttle;   6 months – hub motor and battery; 12 months - frame and structure.
 We will repair or replace, at our option, any product or part that is defective in material or workmanship, without charge if the product is presented to us at our authorized Liberty Electric Bike Service Center at 1-800-806-7109, with dated proof of purchase inside of warranty period.
This limited warranty does not cover the normal wear of items such as tires, brakes, chains, and other items. All implied warranties are limited to the stated time period.
Liberty Seamless Enterprises, Inc., Liberty Electric Bike Company, and any of its subsidiaries will not be liable for any incidental or consequential damages. This limited warranty gives you specific legal rights, and you may have other rights from state to state.
Our Goal: 100 percent satisfaction
CALL NOW TO ORDER YOURS!
814-326-4121